We open the doors of the Magic Rock Gardens Hotel in
SPECIAL OFFERS
Find out the best online offers in our Official Website
2 NIÑOS GRATIS EN ULTRA TODO INCLUIDO

Magic Aqua Rock Gardens ideal para las familias que quiere disfrutar de un ambiente único en un hotel completamente ambientado al más puro estilo étnico.

ofrecemos estas 2 promociones de última hora para que disfruteis de un verano magico con ...

Viaja en Familia desde 31€

Special prices!

Do you want to enjoy some quiet holiday? This is your opportunity!
From 01/05/2018 to 27/05/2018 from 31€*

Moreover... you can enjoy our excursions pack if you book 7 nights or more in Ultra All Inclusive ...

1 NIÑO GRATIS EN PENSIÓN COMPLETA

Primer niño gratis

Promocion Pensión Completa + 1 Niño GRATIS Disfruta de la playa y el sol de Benidorm aprovechando esta promoción de ultima hora que hemos lanzado para que paseis un verano magico con nosotros. Oferta disponible en los siguientes periodos: *01/05 ...

Verano en Junior Estandar

Aprovecha esta promoción de última hora para disfrutar en familia del Magic Aqua™ Rock Gardens del 20/05 al 31/05/18.Promoción en habitación Doble Junior Estandar a precio de Estandar 2/3 que es la habitación más económica ...

From:

€165 taxes included

Offer large families

In large families, the first and second children are free. The others have a 50% discount. Large families are considered from occupation 2-3-0. Two adults, three children. Applies all-inclusive.

Single-parent offer

Enjoy all the benefits by booking in the single-parent room, where the first child is free and the following ones have a 50% discount.

Book and SAVE!

Book your stay at Hotel Magic Aqua Rock Gardens

Making your reservation in advance will get you the best advantages. Being the first one also ensures that the price of your reservation will never go down

- Take advantage of our Dynamic Pricing. Depending on the booking date and the ...

Holidays and Pet

Why leave your pet at home?

We give you the stay for your pet with your stay minimum 7 nights (less nights, you must pay € 12 per day)

Your pet (dog or cat) will enjoy a free specialized residence service (does not include food)

The animal ...

FREE Shuttle!

We will take you to your chosen resort

We always try to give the best servicies and facilities during your stay. That's why we offer you the shuttle service. Moreover, for stays of 7 nights or more, this service is for FREE (only available from the booking ...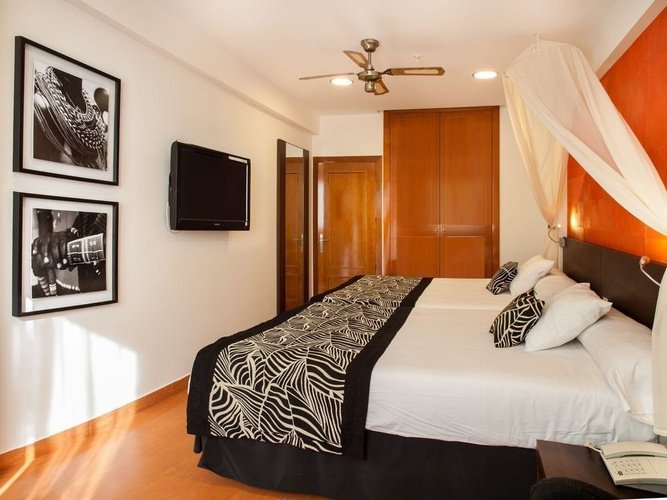 Magic Rock Gardens Hotel in Benidorm
Hotel in Benidorm, Alicante
Welcome to the official website of the Magic Aqua Rock Gardens Hotel, your hotel with water park in Benidorm. In this modern theme hotel close to Levante beach, Benidorm, you will enjoy the maximum entertainment for families or friends, in totally refurbished customised spaces and close at hand to the Mediterranean sea.

Discover the advantages of the All Exclusive holiday concept and rest in one of the most complete theme hotels in Benidorm. Make a reservation today at the Magic Aqua Rock Gardens Hotel and live an exclusive adventure!